Previously: Newly-turned vampire Elliot Marshall has been challenged by Vladislaus Straud to build a clan consisting of the most powerful families around. Vladislaus has named Geoffrey Landgraab, Bella Goth, Lily Feng, Max Villareal, and Judith Ward as required members, of which Elliot must turn three before his rival, Miss H does. Although the Landgraabs recently died from a terrible pufferfish accident, Miss H has found the rightful heir to their fortune and power: a teenager named Jade Zest. Elliot has turned Lily Feng and plans to turn Max Villareal, but his concern for Jade's welfare (and his offspring Lexi's recent mention that she built a science lab in his house) has put him on edge more than usual.
—-
The day of harvesting dawned bright and early…or bright, anyway. No earlier than expected. Elliot paced nervously about the house, catching even the attention of Kyle, who tended to be oblivious to such things.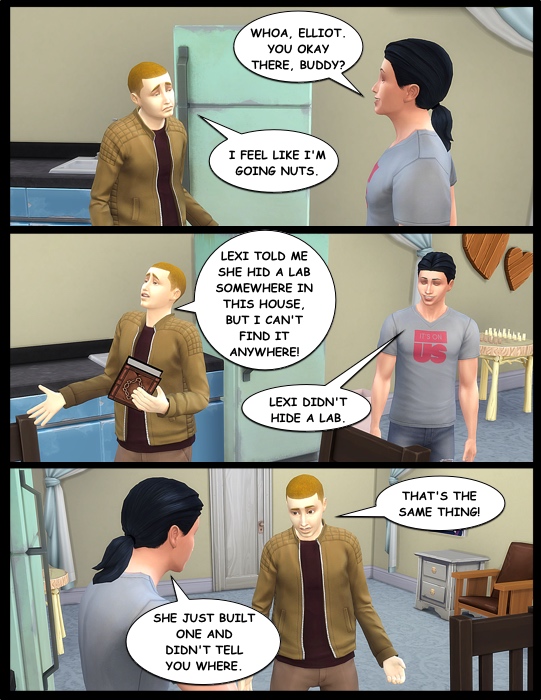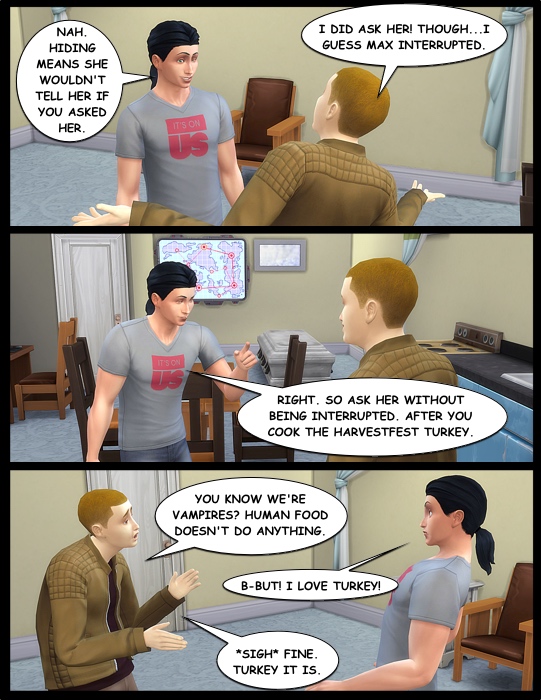 While Elliot set to work on making the turkey, Kyle headed downstairs towards the entrance to the "secret lab." It wasn't really all that difficult. In the basement, by the pool, there was a second set of stairs, this was leading to a subbasement. Kyle supposed Elliot could have missed it with all the towel racks and lounge chairs that had been set up around the pool, but really, if he could find it, surely anyone could.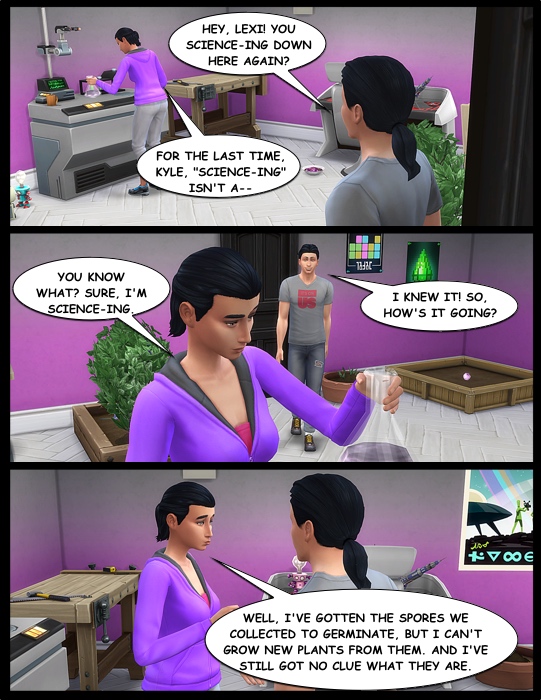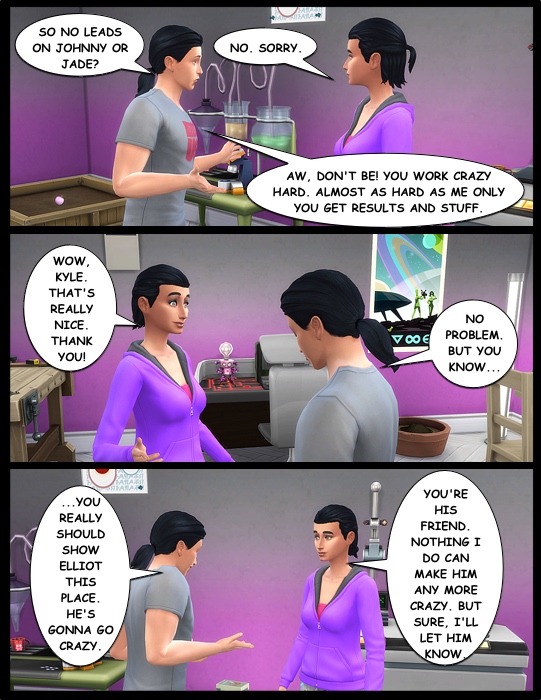 Kyle nodded at this insight, not the first of its kind and certainly not the last. But for as much as Lexi was quick to point out Kyle's failings, she was quick to point out his strengths, too. He could live with a friend like that.
Meanwhile, over at the Villareal household, the parents were preparing for Harvestfest with a meal they could actually eat. The young Max, still a day away from his anticipated birthday, stood in front of a mirror coaxing himself and mentally preparing for his upcoming new life.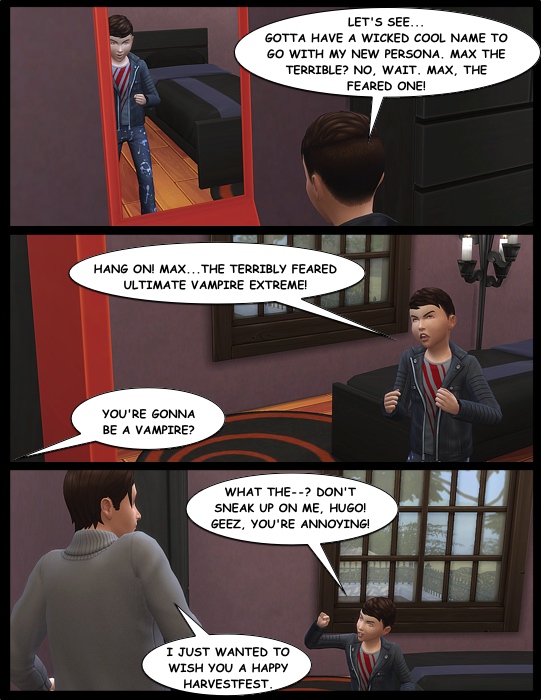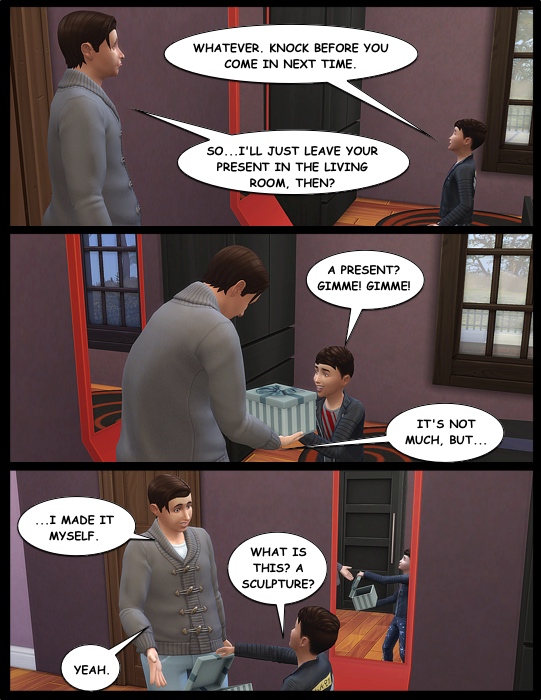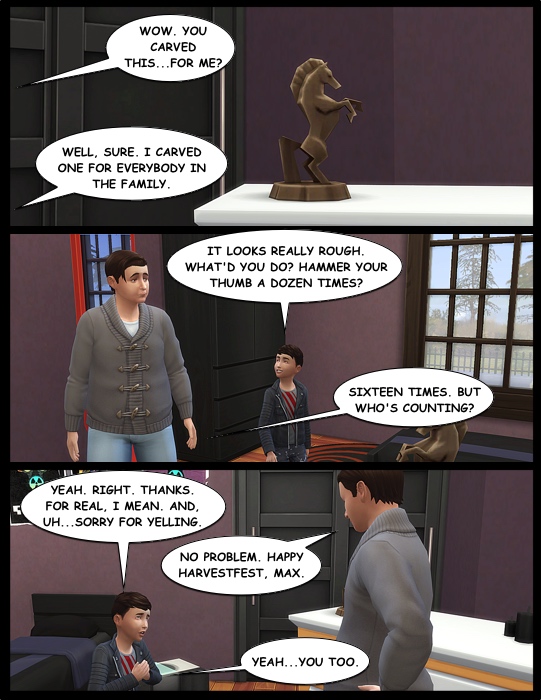 Hugo headed down the stairs, a smile on his face. Something in Max felt…strange. People never did anything except annoy him. It wasn't their fault. He was awesome, and they weren't. But now his brother had done something for him, despite Max harassing him about his non-awesomeness, and didn't even hold a grudge for it. Max felt…grateful? That was a word, right? It seemed to apply in this situation. Maybe it was just the Harvestfest goody-goody vibes getting to him. Yes, that had to be it. He couldn't get tied up in sentiments now. He had a vampire clan to join.
Which of course meant, there was a rival clan he was not joining. We shall look in on them now. Bella was in charge of the feast, having the most knowledge on cooking, along with pretty much everything else. And Jade was due to arrive ten minutes prior.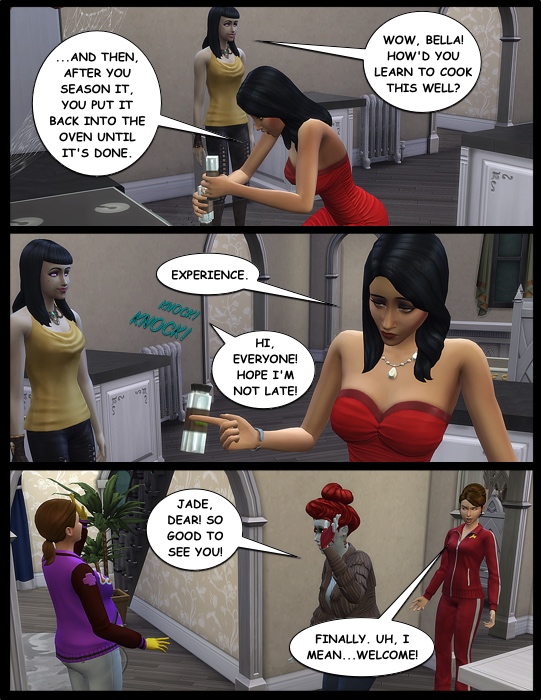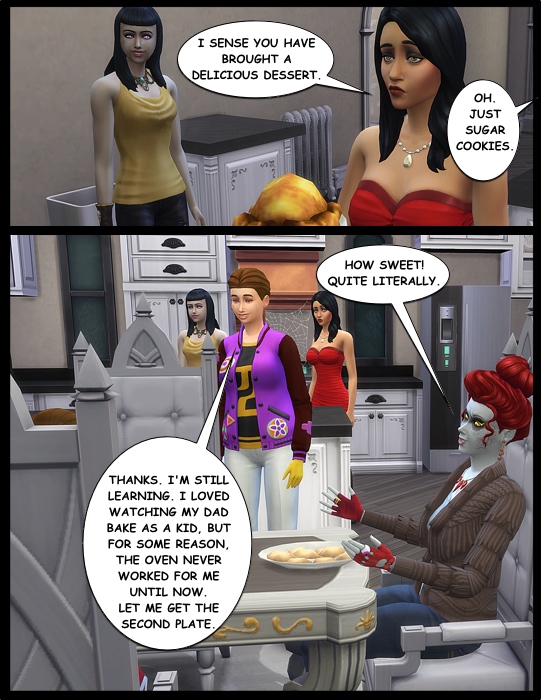 As Jade brought in her second plate of delicious amateur cookies to share, Lilith quietly stood up from the table and motioned Miss H to the side.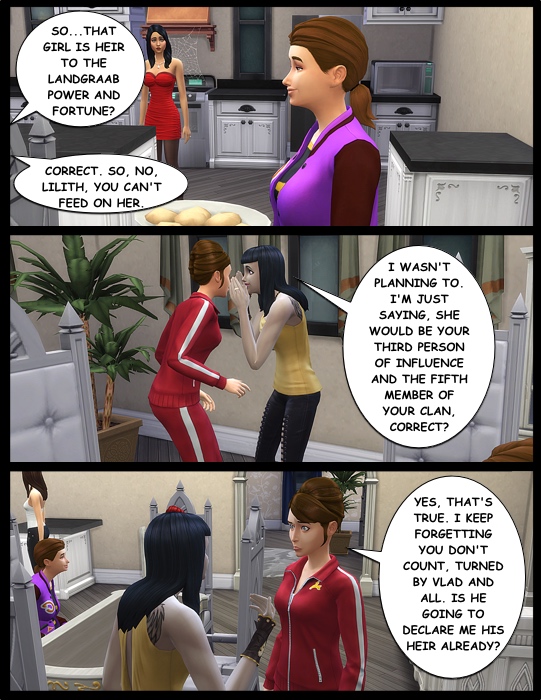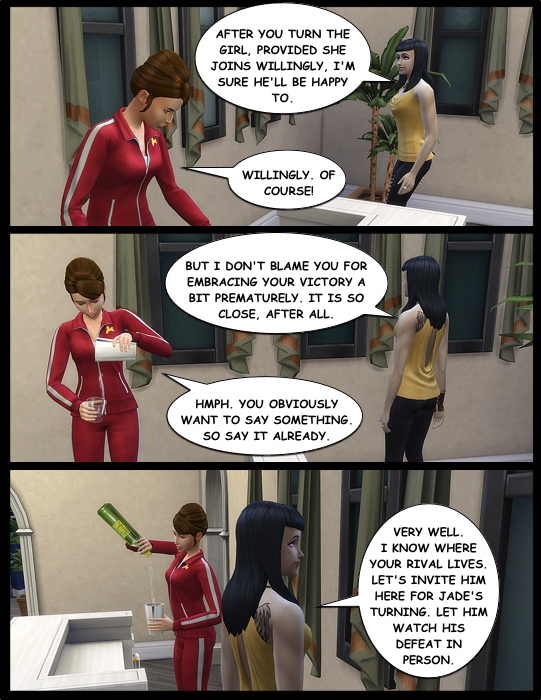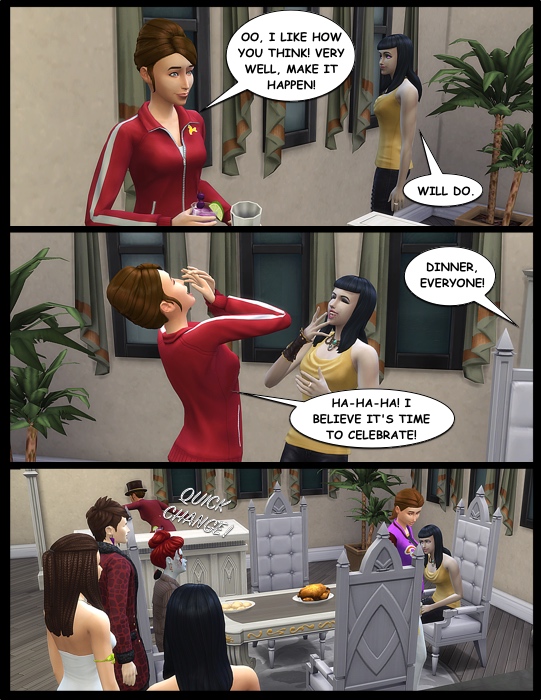 Miss H went from her jogging outfit to her party outfit with a simple spin in place. (She did not understand how such things worked but attributed to one of her many unexplained vampire powers.) She looked on at her clan with more than a hint of (in her mind) well-deserved pride.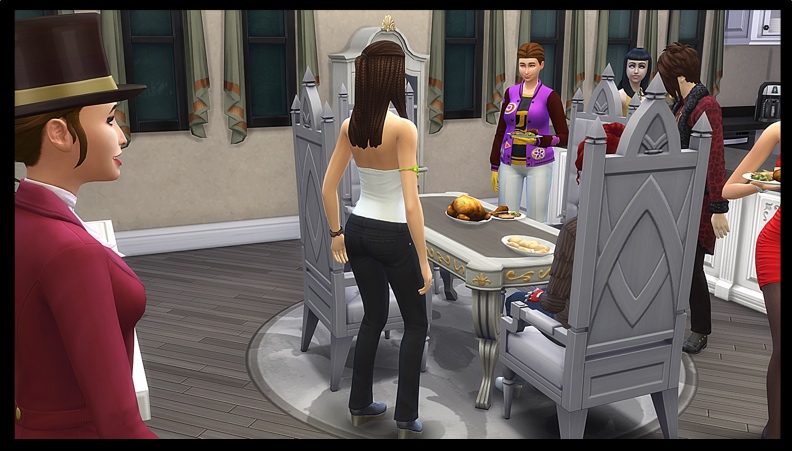 Yes, everything was going exactly according to plan. So much so that she really should have kept her guard up. Been on high alert. But…she was Vlad's loyal offspring. Surely he wouldn't be planning anything against her…would he?
—-